Our restaurant is an attractive room combining contemporary style with traditional high quality furnishings, creating a relaxed and cosy atmosphere. On fine days, our shady terrace makes a delightful setting for lunch or dinner.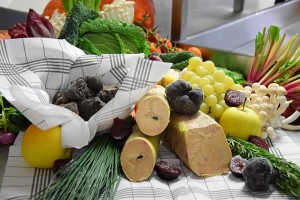 Chef Olivier Loeuillet uses the very finest produce from the South-West, in the great traditions of regional gastronomy, whilst adding a personal modern twist to our menu.
We offer a half-board stay with an appetiser followed by a choice of four courses from our menu, featuring the freshest seasonal produce complemented by fine Cahors wines – the pride of our Lot and Quercy region.
A full catering service can also be provided for larger gatherings and events.
As it is always our customers who should have the final say, without sparing our blushes we're proud to share this recent comment:
«We discovered the Petit Relais by chance when driving through the quiet and picturesque village. It's a lovely building with a pretty, flower-filled terrace looking onto the small village square. The welcome was superb and we enjoyed an excellent meal in delightful surroundings. We started with a delicious local recipe soup, followed by tender lamb cutlets with woodland mushrooms, a Rocamadour goat's cheese garnished with lamb's lettuce, walnuts and apple compote and a splendid and original chocolate dessert to finish. Not to mention the quality and style of the table settings – in short, everything was perfect and is to be highly recommended.»
MENUS AND CARTE OF THE RESTAURANT »